About Us
Hugh Harris Insurance Agency offers a wide selection of insurance policies to fit your needs and budget.
After several decades of service, our family-owned-and-operated company has perfected the art of customer service. We're committed to finding you the best possible rate for your policy needs while giving you the quick response and personal attention you want. You can count on us for all your home, auto, farm, business, and life insurance needs.
A legacy of service
In 1954, Hugh Harris started selling insurance in Alderson, West Virginia, as a way to provide extra income to support his large family. Hugh also worked at a grocery store and helped his brother run the local Texaco station, keeping the books and billing. He began selling insurance full-time after his retirement from the US Postal Service in 1985.
In 2003, two of Hugh's children, David Harris and Sheila Harris, became licensed insurance agents and joined the agency. The office is run out of our homes. This allows us to provide you a comfortable atmosphere and extends our work hours to be more convenient for making payments or contacting us for quotes or policy needs.
David Harris retired as Facility Manager from the Federal Bureau of Prisons after 26 years. David lives in Morgantown with his wife Barbara, retired Human Resources Specialist from the Federal Bureau of Prisons. They have a son Caleb, daughters Stacy and Holli, and son-in-law Tommy Barr. David and Barbara enjoy spending time with their granddaughters Addylan, Zoey, and Olivia, and grandsons Colton and Paxtyn. David is an avid runner, hunter and fisher. He also enjoys watching WVU football and basketball.
Sheila Harris is a full time Registered Dental Hygienist, and has worked for 36 years in Greenbrier, Summers, and Monroe Counties. Sheila has been a licensed Insurance Agent, working with the Hugh Harris Agency since 2003. She resides in Alderson with Hugh. She is a member of the Old Greenbrier Baptist Church where she has served on the Official Board as a deaconess, taught Sunday School, as well as served on numerous committees. Sheila has one daughter, Laurel Karnes and her husband J.T. of Gap Mills. She stays busy and enjoys spending time with her grandson Alex and granddaughter Ava Mae, and also her three step grandchildren, Sidney, Kendra, and Andrew, who all reside in Monroe County.
Looking forward
Over the years, many things have changed in the insurance industry, and we are continually keeping up with all these developments in policy options and technology.
We have expanded our selection of insurance carriers to better meet our customers' insurance needs and to increase our provided insurance premium comparisons. We have also worked to partner with and provide harder to find insurance offerings, such as High Risk Auto, Student Rental Properties, Flood, Seasonal Homes, Campers, RV's, ATV's, Commercial Builders and Roofers, Workers Comp and Bonding Insurance.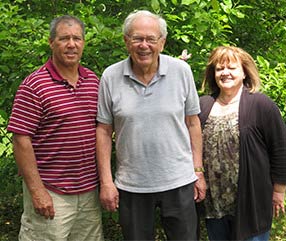 (LtoR) David Harris, Hugh Harris, Sheila Harris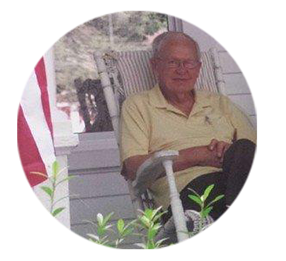 Hugh Harris at his home, 4th of July 2014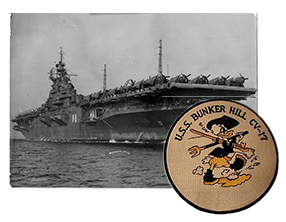 Hugh Harris served as a gunner on the USS Bunker Hill during WWII. On May 11, 1945 she lost nearly 600 of her crew during Japanese kamikaze attacks. Hugh treaded water for hours before rescue. Refusing to leave his ship, he transfered to a cook for the remainder of the war in order to continue to serve on his inactive ship.